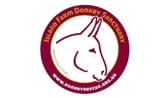 Island Farm Donkey Sanctuary
England & Wales Registered Charity Number 1121697
The Island Farm Donkey Sanctuary has teamed up with Amazon to offer a great animal adoption gift. You can adopt a donkey for a year and receive a colourful gift pack delivered right to your door. You can even meet your donkey should you wish!
Your adoption will help them with the important work they do and you can expect to receive:
A beautiful photograph of your donkey.
Details about his or her life-story.
An adoption certificate.
The opportunity to visit your adopted donkey at the sanctuary.
About Island Farm Donkey Sanctuary
Island Farm was acquired in 1981 from a family of pig producers and coal merchants. In 1983 a donkey sanctuary was established after John McLaren rescued a few donkeys that were put on sale. The number of donkey's gradually began to increase which required a rather large financial commitment. As a result the Sanctuary became an affiliated charity in 1997 which allowed it to continue its important work as well as raise money.  Within three years, the donkey Sanctuary became a fully registered charity taking the official name, the Island Farm Donkey Sanctuary. The farm now takes care of more than 100 donkeys and has found homes for a similar number. 
Why supporting Island Farm Donkey Sanctuary makes sense
All donkeys that have been taken in by the sanctuary have suffered from neglect and some have even been abused. Without your support it would not be possible to take care of the problems they arrive with including parasites, malnutrition and overgrown hooves which can cripple a donkey causing them a lot of pain.
It costs about £33 a week to keep a donkey at the sanctuary and each donkey arrival requires a visit from health care professionals as well a specialist treatment which all cost extra and quickly adds up. It costs a lot of money to keep the Sanctuary going.
Almost all the income required comes from donations of ordinary individuals, so by adopting a donkey you will be helping the Sanctuary continue with the important work that it does.