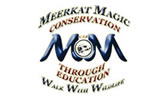 Meerkat Magic Conservation Project
Meerkat Magic Conservation Project has teamed up with Amazon to offer a great animal adoption gift. You can adopt a meerkat for a year and receive a colourful gift pack delivered right to your door.
You adoption gift pack includes:
Personalised certificate
Welcome letter and your gift explained 
More than just meerkats fact sheet 
Meerkat infographic
The magic of meerkats leaflet
Meerkat postcard
Registration sheet
About Meerkat Magic Conservation Project
You can help with meerkat conservation by either adopting a meerkat or staying at the Meerkat Magic Valley Reserve in Oudtshoorn Western Cape South Africa. Visitors will be personally guided by Grant M. Mc Ilrath AKA the Meerkat Man. The Meerkat Man has been working with and conserving wild meerkat since 1993 and is a professional wildlife researcher as well as qualified conservationists who has published a number of scientific articles.