Sponsor a Guide Dog Puppy
England & Wales Registered Charity Number 209617 / Scotland SC038979
Sponsor a puppy with Guide Dogs for the Blind from just £4.33 a month and you'll be supporting their training to become lifelong companions for the blind or partially sighted. Your gift pack includes :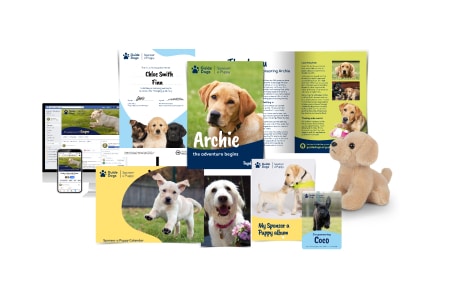 An online exclusive cuddly toy*.
Regular Pupdates via mail and email – following your puppy's journey.
Access to your puppy's exclusive Facebook group.
Photo album and photos of your pup.
A personalised certificate.
An adorable magnet.
A gorgeous calendar at the end of each year
* The gift pack will be delivered within 28 days of order and the cuddly toy will arrive 2 – 3 weeks after gift pack delivery.
Why supporting Guide Dogs for the Blind makes sense
Guide Dogs for the Blind breed nearly one-thousand puppies each year to help the blind and partially sighted. They also count over 800 staff across the UK.
Your donation is going to the right organisation with experts in the field.
It takes 6-months to train a Guide Dog, with six weeks of that spent training the new owner and their dog to become acquainted.
Your donation benefits both an animal and human at the same time.
Guide Dogs for the Blind have 28 teams working across the country, with four training centres around the UK.
Your donation will go to training centres in the UK.
Sponsor a Puppy
Sponsor a puppy with Guide Dogs for the Blind and you will be providing much needed funds to help support a young guide dog from the early stages of its life, right the way through to being fully trained. Guide dogs provide functional support to the daily living of a blind or partially sighted person and you can help with a small monthly donation.
About the Guide Dogs for the Blind
Guide Dogs for the Blind having been expertly breeding and training human helpers for over 75 years, offering partially sighted and blind people the chance for a life of mobility and freedom. Alongside their groundbreaking animal training scheme, they also work tirelessly in campaigning for the equal rights for those who are visually impaired. The charity help to fund eye research campaigns alongside confidence building rehabilitation programmes that really do help those with visual impairments.
5 Big Moments for Guide Dogs for the Blind
Every charitable organization has milestones and goals to shout about and here are five of Guide Dogs for the Blind most important.
1934 : The Guide Dogs for the Blind Association was founded in the UK.
1939-1947 : Leamington Spa opened as the first UK Guide Dog Training Centre.
1934 – 2012 : over 21,000 blind and partially sighted people have experienced the independence that having a guide dog can bring.
2010 : the charity succeeded in removing the minimum age for guide dog ownership, thus being able to provide guide dogs for the under 16s.
2012 : The charity is the largest breeder and trainer of working dogs in the world.