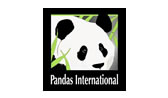 Pandas International
Pandas International is a registered 501 (c)3 non profit organisation
Amazon have teamed up with Pandas International and udopt.co.uk to offer a great animal adoption gift. You can adopt a panda for a year and receive a colourful gift pack delivered right to your door. Your adoption will help Pandas International continue the important panda conservation work it does and you can expect to receive:
A personalised gift certificate
Fantastic panda gift pack
A giant panda fact sheet and infographic
About Pandas International
Pandas International was established in 1999 following a visit to the Wolong Panda Centre and China by Suzanne Braden and Diane Rees. The visit made such a big impression on the two that upon their return to the United States they immediately founded the charity. The goal of the organisation is to keep the giant panda safe. Unlike other conservation organisations, Pandas International is focused exclusively on giant panda conservation. Pandas International has developed close relationships with Chinese officials and conservationists allowing it unparalleled access and enabling it to maximise its role in the preservation of the iconic species.
Why supporting Pandas International makes sense
Help fund the reconstruction of the new Wolong Panda Centre which was destroyed following an earthquake.
Your adoption will provide the necessary funding to provide advanced medical training for veterinary staff at the panda centres.
Help support research into the giant panda so and assist with the re-introduction of captive pandas into the wild so that the gene pool becomes increasingly diversified..