Featuring on udopt
If you are a charity or a zoo and have an animal adoption product that you would like to promote on our sites please get in touch.
What you get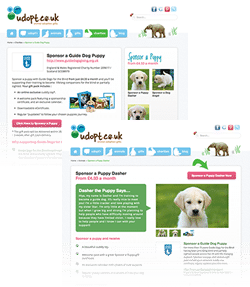 A unique landing page with information about how your charity helps to protect endangered animals.
Featured product pages for your animal adoptions.
Integration to our gift and animal comparison tables.
Coverage on our udopt'r animal adoption gift chooser.
Coverage on the udopt blog.
Coverage via our social media channels.
Why work with us?
udopt.co.uk is developed by Venturian Media who are the UK's largest performance based advertising company operating in the charity sector. We have been publishing community, information and comparison sites for UK charities since 2005.
We work with many leading charities and are always keen to talk to new partners who have animal adoption products that might complement our existing offering.
We have an excellent understanding of how to generate high value donors with low attrition rates through engagement with our sites.