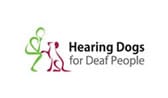 Sponsor a puppy to become a hearing dog from just £3.00 a month. Your regular gift will be supporting its training to become a lifelong companion for people who have hearing loss. Your gift pack includes: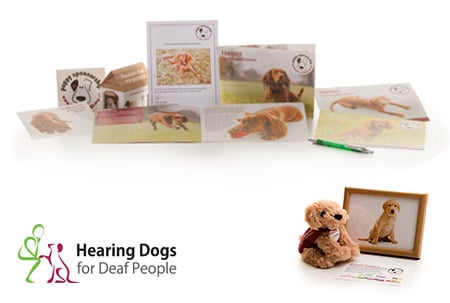 A sponsorship certificate.
Three beautiful postcards of your puppy.
Regular photo-updates on your puppy's progress throughout their training.
When you donate £5.00 a month you will also get a cute cuddly toy dog.
>> Click Here to Sponsor a Hearing Dog
Why Support Hearing Dogs for Deaf People?
Hearing Dogs for Deaf People receive no government funding and relies solely on the generosity of individuals and organisations to fund its vital work.
The breeding, training, placement and life-long care of each hearing dog costs around £45,000.
Hearing Dogs are provided free of charge to the deaf people they help. Your sponsorship helps make that gift possible.
Hearing Dogs are trained to alert deaf adults and children to important sounds and danger signals as well as providing companionship, reducing isolation and increasing independence.
The charity has created over 2,000 partnerships since it was founded over 30 years ago.
There are currently around 960 working partnerships in the UK.
1 in 6 people in the UK have a hearing loss of some kind. Around 850,000 people could benefit from the support of a hearing dog.
Sponsor a Puppy with Hearing Dogs for Deaf People
Sponsor a puppy with Hearing Dogs for Deaf People and you will be offering much needed financial support in training a hearing dog all the way from birth, to being a fully trained hearing dog. You can help people with hearing loss to lead fuller lives by making a small monthly donation.
About Hearing Dogs for Deaf People
Hearing Dogs for Deaf People is a UK based charity which trains dogs to alert deaf people to a variety of sounds and danger signals both in public and in the home. Hearing dogs wear a distinctive burgundy jacket when working which helps make the invisible disability of deafness more visible and helps communication. These dogs increase independence and confidence and provide companionship to a deaf person who might, in the past, have felt too vulnerable and isolated to leave their home. As a result of the success of this charity, there has been a greater demand for hearing dogs from people with hearing loss throughout the UK. As nearly one in six people has some kind of hearing loss, there is a requirement for funds to help the Charity raise the number of hearing dogs that it trains each year.
Key Reports
For fellow udopters wishing to learn more about the work of Hearing Dogs for Deaf People, the following section lists some of their flagship publications in PDF format.